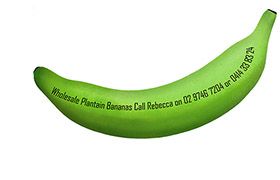 Wholesale Pacific Plantain Bananas Sydney
Minimum purchase is 1 full box.
Arthur Yee Pty Ltd buys and sells wholesale Pacific Plantain Bananas.
We are always looking for farmers with good quality Pacific Plantain Bananas which comply with Australian growing standards.
Pacific Plantain Bananas are a popular boutique variety these days in Australia for people looking to enhance the taste of their cooking and we are constantly looking for more quality suppliers.
Arthur Yee Pty Ltd has 2 huge stalls (E19 and E20 in the Banana Building) at Sydney's Flemington Markets and we are looking to expand even further. So we need your bananas.
Contact Us
Please contact us below if you have Pacific Plantain Bananas for sale or you are looking to buy Pacific Plantain Bananas for your shop or Group.
Minimum purchase is 1 full box.
---
First Time Buyers of Plantain Bananas, please read this.
Plantain Bananas may look like your regular bananas and they may also smell like regular bananas, but you cannot eat Plantain Bananas raw like regular bananas.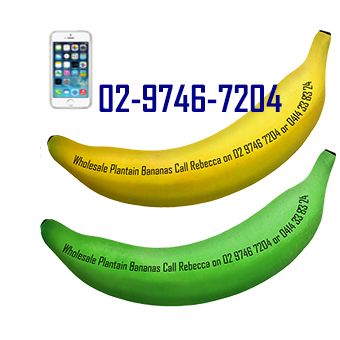 You must cook or fry Plantain Bananas before you eat them.
Plantain Bananas are much too hard and woody if you try to just peel them and take a bite: to get the full nutritional advantage of a plantain, so remember that you have to cook Plantain Bananas first.
Plantain Bananas also come in 3 main colours. Black, Yellow and Green.
When Plantain Bananas are "black" in colour, that is when they are the best for baking and serving as deserts.
The Yellow Plantain Bananas are best for grilling and can easily be sliced lengthways and grilled for around 15 minutes and they go well with fish or chicken meals.
For frying Plantains, you can choose either very ripe (yellow) or unripe (green) plantains. Simply add a tablespoon or 2 of Coconut Oil to the pan - slice the Plantain Banana into 2-3 centimeter pieces - and fry for several minutes. Coconut oil is safer and healthier than GMO vegetable oils.
Plantains can also be coated in oil and baked for up to 30 minutes (or less if you have infra-red or fan forced ovens) if you want to try something different.
Plantains can also be incorporated into your favourite curries, soups, and other recipies.
You use them in a curry almost the same way you'd use potatoes or any other starchy vegetable. They are particularly good with spicy foods because the mildness of the plantains helps to balance out the rest of the dish.
Green plantains have more starch and less sugar, and they slowly become sweeter and more sugary as they ripen from green into yellow and then into black.
So if you're very concerned about avoiding sugar, go for the green plantains.
BTW
You will notice that Plantain Bananas can grow up to almost twice as big as your regular fruit shop bananas.