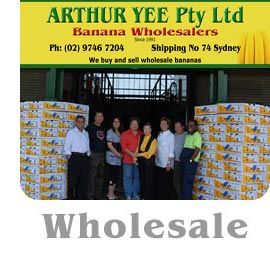 Wholesale Banana Info Sydney
We want to create a long term business relationship with you.
We sell wholesale bananas in Sydney NSW
We are always looking for Banana Growers who need well established Sydney markets
We have been in business continuously since 1942
We have many semi-trailer loads of bananas delivered every week and we have well established partnerships with many current growers.
Due to our high volume sales, you know that you are always getting the best prices available.
If you run a business which uses or sells bananas, please consider how we may be able to assist you to save money by buying top quality bananas wholesale directly from Arthur Yee Pty Ltd.
Bananas are the number one selling fruit in Australia and usually take pride of place in any retail fruit shop or supermarket.