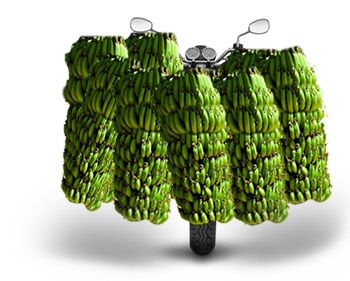 Banana Bulk Buying Tips
Minimum purchase is 1 full box.
These TIPS are here to help you maintain a good working relationship with your Merchants.
PLEASE REMEMBER that "The Markets" are almost always hectic and busy. So we rarely have time to spare. The easier the transaction, the less stress for all concerned.
TIPS
1. BE ON TIME
If you say you will be at the Merchants stall at 7 AM and you come 20 minutes or more late, DO NOT expect that your order will be waiting for you. It may have been sold to another customer or "walk-in".
Come early but NEVER come late. REMEMBER: First in, First served.
Remember: It is called "The Markets" for a reason, so if a big buyer decides to buy a truck load of fruit, you may lose out. So come early.
2. BE ORGANIZED
Make sure that you know EXACTLY what you want. Merchants do not have time to wait for you to call people and arrange or change orders.
Have a list of what you want, Go to the merchants and order, then pay and IF required because they are busy, go to the next merchant on your list and order there.
When you have finished, come back to the first merchant who may have your order waiting by the time you get back. This will save both you and the Merchant lots of time.
3. CALL AHEAD
Always call ahead "even" IF you are a regular customer and ask the Merchant to "Hold" your order for you.
4. PAY IN CASH
Always pay in cash if possible.
5. PREPARE YOUR $$$
Ask the exact price when you call, and before you come to the markets, BRING the exact amount (plus a little extra).
It is not advisable to bring a $100 note if you are just buying 1 box (especially first thing in the morning).
6. TAKE EXACT MONEY
DO NOT expect the Merchant to have a heap of small change "just for you".
7. NEVER PAY BY CHEQUES
NEVER ever offer to pay by cheque.
REMEMBER the golden rule. Pay by cash.
Would you trust someone you rarely met to pay you with a piece of paper?
8. HOT DAYS
On hot days, keep your air-condition ON so that your fruit does not spoil from the heat.
9. GET DIRECTIONS
Get directions to the Merchants location. Some markets are huge and you may easily get lost or give up.
10. BUY MORE PAY LESS
The more you buy the cheaper it gets.
11. GO EARLIER
Go to the markets before 7 am at the very latest, and even then it may be too late so if you can, try and be at the markets around 5 am - 6 am if possible, then you will get greater choices of quantity and quality. (remember that you will have to start competing with traffic after 6am, so go early)
12. RECEIPTS
Do ask for a receipt. Every Merchant is legally bound to provide you with one anyway.
13. Parking and Flemington Markets Rules
14. REMEMBER BE EARLY
The markets usually start trading early, between 1am and 3am and many merchants finish trading at around 9am - 12 midday.